Note for Japanese researchers:
I am searching for original battle reports and photos of the Kuril Detachment of the 54th Sentai and other IJAAF units based in the Kurils from the summer 1943 until the end of the war. If you are in possession of any materials related to Japanese air units in the Kurils, please contact me, I would greatly appreciate your collaboration. 
Thank you very much in advance!
Airfields of Northern Kuriles
Shimushu
​
Airfields of Central and Southern Kuriles
IJAAF and IJNAF units on the Kurile Islands
Kurile Islands is a volcanic archipelago that stretches approximately 1,300 km northeast from Hokkaido, Japan, to Kamchatka, Russia. In accordance to the Treaty of St. Petersburg signed and ratified in 1875, possession of entire Kurile Island chain was transferred to Japan in exchange to Russian rights for entire Island of Sakhalin. Until 1945, the islands of Shimushu and Paramushiro remained the northern border of the Empire of Japan.
The forces in the northern Kuriles formed the northernmost defense of the Japanese empire, blocking any advance that should be made from the north.  It also protected the considerable fisheries in the region.  Finally, they posed a threat to American forces in the Aleutians. (Study, Advanced Intelligence Center, North Pacific Area, The Kurile Islands, Vol. I, p. 3.)
​
July 1941
A Tokyo Imperial Conference in the presence of the Emperor decides that Japan will remain neutral towards the Soviet Union, thus disavowing an invasion of the USSR from the Kurile Islands (codename KAN-TOKU-EN). The Japanese continue to undertake multiple sea and air reconnaissance missions in the Aleutians and the Soviet Kamchatka Peninsula.
3 December 1941
The Japanese Army General Staff instructs the Kwantung Army to avoid any border dispute with the Soviet Union.
1 February 1942: The seaplane tender Kimikawa-Maru was assigned to the Northern Patrol Unit. 
Operating out of Ominato, Kimikawa-Maru conducts anti-submarine patrols and Soviet shipping surveillance along the Kurile Islands chain to Kamchatka through the Sea of Okhotsk. Depending on weather, she is at sea 14 to 16 days. 
​
February 1942
The Alaskan Air Force is redesignated the 11th Air Force.
22-27 February 1942: float plane tender Kimikawa-Maru departs Ominato with its E13A1 floatplanes conducting photo-reconnaissance flights over the Soviet Union's Ust-Bolsheretsk harbor, Kamchatka Peninsula. The total number of missions is unknown.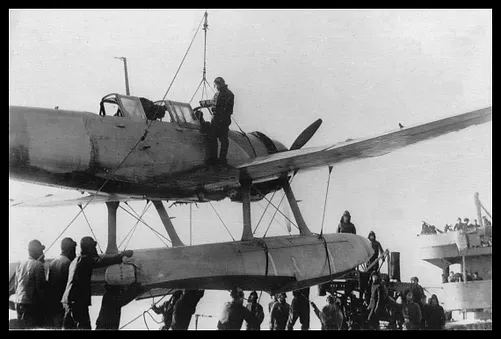 May 1942
Though chances of enemy carrier raid to  North Pacific came to be regarded as highly probable, the strategic risks seemed less grave than in other areas and in the fierce competition for the limited forces and supplies then available, Alaska suffered from a low priority. Even when reinforced by units hastily dispatched in late May after Japanese plans for the Dutch Harbor attack became known through U.S. familiarity with enemy codes, the Eleventh Air Force was still woefully weak. Its striking force included:
one heavy bomber squadron (36th);
two medium bombardment squadrons (73d, 77th);
three fighter squadrons (11th, 18th, 54th); and
one transport squadron (42nd).
The bomber squadrons were organized into the 28th Composite Group. In anticipation of the strike at Dutch Harbor, these units had been disposed for the most part in that area at bases hastily prepared and barely usable. There were also in the theater U.S. Navy and Royal Canadian Air Force planes.
These Army Air Force units operated at the end of a complicated chain of command. The Eleventh Air Force (Brig. Gen. William 0. Butler) was assigned to the Alaska Defense Command (Maj. Gen. Simon B. Buckner, Jr.), which in turn was under the Western Defense Command (Lt. Gen. John L. De Witt). Because of the Navy's special defense mission, in late May Admiral Nimitz had placed all Army, Navy, and Canadian forces in the Alaska theater under Rear Adm. Robert A. Theobald. The Eleventh Air Force also operated under his overall strategic command during the succeeding months. (Harry L. Coles, Ohio State University, in Army Air Forces in World War Two, Vol. IV)
June 1942 
​
Since June 1942,  the air defense of the northern Kuriles has been provided by the 24th Air Flotilla under the command of Rear Admiral Yamada. Main forces of the Flotilla were assigned to support Japanese IJN 4th Fleet operations in the central Pacific.
Hokkaido/Kurile section of the 24th Air Flotilla from June 1942 until summer of 1943 was comprised of:
1st Ku (renamed 752 Ku 1 November 1942) with G3M (later- G4M) bombers, CO Capt Hidaribani Inoue (Feb 1942- 5 Sept 1942), then Cmdr Hitoshi Sonoyama.
​
Mihoro Ku with 36 G3M1 bombers based in Bihoro with detachment at Paramushiro from the beginning of June until August, 1942 when it was dispatched to Kisarazu and to Tinian in Marianas. The Kuril detachment participated in air patrols around Aleutian islands during Japanese advance. CO- Cmdr (later Capt) Yutaka Yamada from 20 March 1942.
​
Chitose Ku which fighter detachment was renamed 201 Ku in December 1942, had 36 A6M2 fighters based at Kurabu Zaki, Paramushiru in June-July 1943. CO-Cmdr. Ryutaro Yamanaka
Chitose Ku bomber detachment was renamed 703 Ku in December 1942. CO- Cmdr (later Capt) Fujiro Ohashi. Its remaining eight bombers were based in Chitose and were involved in patrols toward Kuril Islands and pilot training until the end of war.
​
552 Ku of the 24th Air Flotilla with carrier-based Aichi D3A dive bombers was based in Hokkaido.
​
Yokohama-based Toko Seaplane Squadron of 801 Ku had a detachment of six four-engine Kawanishi H6K4 "Mavis" long- range patrol flying boats at the Kataoka Naval Base. They were sent to Kiska the following day after the Japanese troops landing.
​
Up to  20 seaplanes of various types were based at Bettobi Lake in Shimushu.
​
Aleutian Campaign
In early June of 1942, Japan occupied U.S. Aleutians Islands of Attu and Kiska, initiating the 14-months long Aleutian Campaign. However, there were no airfields on both islands. On the same day, float fighter units of vessels Kimikawa-maru and Kamikawa-maru started patrol and, on the next day, 6 flying boats of Toko Aviation Unit (organized on November 15, 1940) led by Cmdr (Chusa) Hiromitsu Ito advanced to Kiska.
The 2nd carrier strike force, part of the Northern Force, under the command of Rear Adm. Kakuta, was tasked to attack the Aleutian Islands and consisted of two light aircraft carriers, Ryujo and Junyo.
Ryujo's air group consisted of 12 A6M2 Zeros and 18 B5N Kate's plus two spares of each type. It departed for the Aleutians on 1 June 1942 and remained in the area until 7 July in case of American counterattack. On 13 July she arrived at Kure for a refit, and was transferred to Carrier Division 2 a day later.
Junyo with 18 A6M2 Zeros and 15 D3A's, after raids to Dutch Harbor, returned to Ominato 24 June 1942, and departed back to the Aleutians 28 June with the rest of the Second Mobile Force (including carriers Zuikaku and Zuiho) under Rear Admiral Kakuta to cover the second reinforcement convoy to Kiska. Its Air Group composition was changed to 21 A6M2, 12 D3A and 9 B5N's. Thereafter, the activities of the Second Mobile Force were carried out in the sea south of Kiska. Patrol actions were carried out, and fighters were dispatched for the defense of Kiska as enemy air attacks there intensified.  The group departed Aleutian waters on July 7 and arrived at Kure on July 13, 1942.
Initially scheduled landing to Adak Island was cancelled because of unexpected U. S. air opposition from the Otter Point air base at Umnak Island, previously not known to the Japanese planners.
​
18 The air echelon of the 404th Bombardment Squadron, commanded by Maj. Robert C. Orth, began deploying to Alaska from Barksdale Field, LA, with its eight B-24Ds.
​
July 1942
​
Attempts of the Japanese to build airfields on the occupied islands proved futile due to the lack of heavy construction equipment, unsuitable land and American bombing attacks.  As a stop-gap measure, they began reinforcing their garrison on Kiska with Nakajima A6M2-N "Rufe" float fighters, which were used for air defense against the bomber attacks.
5 July the float fighter unit with six aircraft and 64 personnel was formed at Yokosuka and carried aboard the floatplane tender Chiyoda to Kiska. The unit was led by Lt. Kushichiro Yamada and was initially incorporated into Toko Ku. From the same day, the float fighters began flying air defence missions over Kiska, replacing aircraft from Kimikawa-maru and Kamikawa-maru in this role.
The float planes were transported from Japan on seaplane tenders. At first they were transported directly to Kiska, but as the campaign went on, Allied air attacks on Kiska made it too dangerous for the tenders, so they dropped the floatplanes off at Attu, to fly on to Kiska.
On July 8, Ens. Kiyomi Saito and his 2 fellows fighters discovered a B-24 heading for Kiska. They attacked but achieved no result. On July 12, they had two encounters with the enemy, and damaged a B-24, reporting black smoke. Japanese pilots likely saw the exhaust fumes coming from the engines as the US pilot gave full throttle to evade the fighters; no damage was reported by the U.S. side.
On 18 July the float fighters attacked three B-17s. One B-17 (Capt. Jack L. Marks, 36th BS) was shot down for the float fighter unit's sole victory. 
On July 21, 3 float fighters led by PO1c Kaishi Ookawa attacked two B-17s and damaged one (black smoke).  Actually the 36th BS B-17s were three (possibly 41-2586, 41-9094, and 41-9126]). They bombed barracks with incendiaries and demolition bombs and reported to have been attacked head on. Lt Frederick R.  Ramputi's aircraft had its No.3 engine knocked out and the bombardier wounded, but they were able to land safely at Cape Field.  
30 July 14.20K to 15.05K: Ens(Sp.duty) Saito Kiyomi's Shotai (2) engaged three B-24Ds with no results expending 46×20 mm and 100×7,7 mm rounds of ammunition. The bombers were part of nine-plane USAAF formation (four B-24Ds and 5 B-17Es) from Cape Field and were unable to bomb the designated targets due to fog.
​
31 July a pilot of a ditched float fighter was rescued by an anti-submarine vessel from Kiska Harbor.
August 1942
4  Lieutenants Kenneth Ambrose and Stan Long, 54th Fighter Squadron, scored the first P-38 victory of World War II by shooting down two Japanese flying boats near Atka Island.
​
5 The 5th Ku was newly organized at Kiska from the float fighters of Toko Ku. It was supposed to have 12 aircraft but in reality there were only six A6M2-Ns. Led by Lt Yamada, they continued their air defense mission above Kiska.
6 VP-43 PBY-5 on patrol was pursued by G3M bomber near Attu
8 USN Task Group composed of cruisers and destroyers bombarded Kiska. One float fighter was destroyed. In the afternoon, float fighters had three air encounters with two American reconnaissance float planes dispatched from the fleet. Lt Kushichiro Yamada and PO2c Yoshikazu Sasaki reported one kill. At the same time, 3 float fighters flown by PO2c Ohkawa, PO3c Katsutaro Uchiyama and Flight Seaman, 2nd class Minoru Minasawa carried out bombing and strafing against the US fleet.
PBY-5s, B-17s and B-24s continued to bomb Kiska on August 9, 11, 14 and 29. Float fighters of the 5th Kokutai made attempts to intercepted them but heavy clouds prevented any kills.
10 Japanese anti-aircraft fire hit and Japanese Rufe float fighter pilots chased the B-24D, 411762, frown by Capt Ira F. Wintermute while on a mission over Kiska.  With two engines shot out, Captain Wintermute, 392nd Bombardment Squadron, and his crew made it as far as Semisopochnoi Island where he ordered the crew to bail out.  Lieutenant Paul A. Perkins, navigator, and Staff Sgt Cliffort R. Brockman landed in the water 300 yards off shore and drowned.  Master Sergeant Eugene W. Latham's parachute became entangled in a propeller and he was dragged down by the bomber. The rest landed safely on the island and constructed shelters out of their parachutes. They were found by a patrol PBY on 12 August and rescued the following date by a crew of Lt. G. W. Smith, VP-43 (Compatwing Four diary).
​
14 Kimikawa-maru  delivered the first five (out of ten) 3-seat reconnaissance floatplane Aichi E13A "Jake" (Sanza Suitei) for the 5th Ku. Another five E13A aircraft were carried in by Kimikawa-maru on August 31; they began patrol flights from September 4.
American forces confronted by the 5th Ku during that time included:
one heavy bomber squadron (36th);
two medium bombardment squadrons (73d, 77th);
four fighter squadrons (11th, 18th, 54th, and Canadian Kittyhawk squadron)
1 Patrol Squadron (PBY flying boats/US Navy)
1 F4F squadron
one transport squadron (42nd).
Sixteen "Rufes" were operationally lost with six destroyed during bomber attacks within 60 days. Despite the replacements, the total number of operable float fighters and reconnaissance planes in Kiska seldom exceeded fourteen, and usually was even lower. The pilots of the Eleventh Air Force and the weather continued to take a heavy toll.
Commander Ito's "Mavis"-type flying boats did not fare well in the Aleutians due to the weather and the American bombing attacks. Three of the "Mavises" were lost to U.S. Naval bombardment on August 7. Another one disappeared on a flight between Ominato Naval Base and Shimushu Island, and the crew of another one had to land in the open sea near Attu due to weather.  The Japanese rescued the crew but the "Mavis" sank. Two "Mavises" were sent to Kiska as replacements for the two that were lost operationally.  Of the three lost to combat, one sank and the other two were damaged beyond repair.  Because of the losses and the difficulty of maintaining the flying boats at Kiska, the Japanese withdrew the remaining three on 17 August, after little more than two months in the Aleutians. Commander Ito made no mention of losing any of his flying boats in aerial combat. (USSBS No. 100, USN.  U.S. Naval Analysis Division. Japanese Flying Boat Operations in the Aleutians.  Operations of a six plane detachment of Kawanishi type 97 flying boats (Mavis) from Kiska 7 Jun‑17 Aug 1942. Summary of interview of Capt Sukemitsu Ito, IJN.  Commander of Mavis Det, Toko Kokutai Squadron, by Capt James S. Russell, USN in Tokyo, 9 Oct. 1945.)
With departure of the "Mavises", the Japanese lost an air offensive capability.  Without a presence of carriers and land-based aircraft, the Japanese were left without serious air capability in the Aleutians.
For both sides, the losses of extreme weather exceeded that of combats.
​
The Eleventh Air Force concentrated on constant bombing of Kiska. The Alaska Defense Command wanted to retake the islands, but priorities dictated by North Africa and Guadalcanal planning prevented any action from being taken.  Bases near Kiska and Attu had to be built first.  The Japanese, in turn, began fortifying Kiska and Attu and began work on airfields on the two islands.  They also built a miniature submarine base on Kiska.  The U.S. "was to expand a prodigious effort trying to dislodge Japanese."  Another benefit the Japanese gained from the occupation of the Aleutians other than diverting U.S. forces and tying down troops was that the U.S. could not convince the Russians to break their April 1941 neutrality treaty with Japan. (Gilman, Our Hidden Front, pp. 102-103.)
Military significance of the northernmost Kurile Islands increases since August 1942, when the U.S. Army established an air base on Adak Island and began bombing Japanese positions on Kiska. The Kuriles became the air support base for Japanese Aleutians garrison.

September 1942
7 September PO2c Sasaki attacked a PBY but did not achieve a victory.
8 Ens. Kiyomi Saito and Flight Seaman, 2nd Class Minoru Minasawa damaged two of three raiding B-24s (black smoke was witnessed) but the float fighter of Ens. Saito in turn received so much of bullet damage that had to be stricken off. In those days, American military gave up attacks from high altitude because of heavy clouds and adopted attack from low altitude, which made the combats more fierce.
​
14 One B-24 and two P-38s raided at low altitude.  Lt. Kushichiro Yamada, PO2c Yoshio Suzuki and Flight Seaman, 2nd Class Hachiro Narita intercepted them and damaged a P-38 which was seen ditching.
15 A particularly heavy combat occurred when four A6M2-Ns challenged a formation of 12 B-24s and 28 escorting fighters. Five of the US aircraft were claimed shot down, plus one probable. Two Rufes (Ens Kiyomi Saito and PO3c Katsutaro Uchiyama) failed to return. PO2c Sasaki reported three P-38s and one F4U (mistakenly identified) shot down, but received damage and had to land on the water. He tried to reach base 'running' on the water but his plane turned over on the way.
As a result, for the next 10 days only 1 float fighter was to be available for service.
​
The floatplane tender Kimikawa Maru arrived on 25 September to deliver six replacement A6M2Ns and two E13As. These were immediately in action from the next day.
Of the original twenty-four float reconnaissance planes brought into Kiska Harbor, only two were operational by the end of September. Over half were destroyed in storms and the remainder lost during bomber attacks. The original twelve Rufes suffered the same fate. The Japanese shipped in crated replacements aboard transports. Because of the weather and bombing, they were seldom able to maintain more than fourteen float fighter and reconnaissance aircraft at Kiska. (USSBS No 98; The Enemy on Kiska, p. 3.)
25 (Japan) Kimikawa Maru ferried to Kiska six A6M2-N fighter seaplanes and two E13A1 Jakes and construction materials for winter quarters. The very next day the aircraft were put in action.
26 In the early morning, total of 41 aircraft (nine B-24 Liberators, twelve P-39 Airacobras and twenty P-40 Warhawks) raided the island.
Four of the P-40s were to be piloted by Canadians, under Squadron Leader K. A. (Ken) Boomer. He and three of his pilots from 111th (Fighter) Squadron, Western Air Command (WAC), Royal Canadian Air Force (RCAF), would fly close and high cover in company with P-40s of 11th Fighter Squadron. This squadron was a unit of the newly constituted 343rd Fighter Group, United States Army Air Force (USAAF), commanded by Major John S. Chennault, the son of Major General Claire Chennault, leader of the American Volunteer Group (AVG) in China – the famous Flying Tigers.
On this day Canadian and American P-40's would fly in the same formations against a common foe. Just before noon, the B-24s and their covering fighters took off from their forward airstrip of perforated steel planking on Adak Island and headed west toward Kiska, just over 200 miles away. In little more than an hour, the fighters were following up the bombers with a low strafing attack on gun positions, naval targets, radar installations and the main Japanese camp area.
Turning back for a second pass they were challenged by two Nakajima A6M2-N "Rufes" piloted by Lt Kushichiro Yamada and PO2 Torao Morikawa. Five more float fighters joined later. Yamada claimed one kill (not confirmed-BI) but Morikawa went MIA. Planes of PO2 Yoshikazu Sasaki and FSea1c Tadashi Sasaki were strafed by the P-39s before they took off. PO2 Sasaki chased the opponents without success.
As the lead Rufe lined up one of the American P-40s, he did not escape the notice of S/L Boomer. "I climbed to a stall practically, pulled up right under him. I just poured it into him from underneath. He flamed up and went down." The Japanese pilot jumped from his aircraft, almost certainly to a watery grave, just before it hit the water. The RCAF had its first and only "home" victory, and its only victory of the War over the Japanese air force. A moment later the other Rufe was claimed by Major Chennault (not confirmed-BI). After expending remaining 0.50 in. machine gun ammunition -with no confirmed result- on a Japanese submarine, the fighters headed for home, such as it was, on Adak. (https://www.richthistle.com/articles/46-victory-over-kiska-the-aleutian-campaign-ww2)
In the early morning of September 28, alerted by Type 1 Model 1 radar, installed in the summer of 1942, 5 float fighters were dispatched. Lt (jg) Kozoh Miyazawa (whose first air-combat was just two days ago), PO1c Kunizo Nakamachi and Flight Seaman, 1st Class Tadashi Sasaki discovered 4 enemy planes and damaged one (black smoke).
FAW4 Diary: PBY-5A 40V (of VP-41 or VP-42?) was attacked by three Zero float planes and slightly damaged while making low altitude reconnaissance of Kiska Harbor for information on entrance submarine net.
Also, in the morning of this day, 2 float fighters in patrol discovered coming 5 B-24s. 3 float fighters took off for support. 1 B-24 got damage (black smoke) on her two engines.
The following day  (Sept 29), however, the situation became more difficult.
2 float fighters took off at 05:00 in the morning and intercepted a formation of about 20 aircraft, consisted of  B-24s, P-39s and P-40s.
CPO Kunizo Nakamachi  achieved 1 kill of P-39. Flight Seaman, 1st Class Tadashi Sasaki was killed in action.
Three more float fighters took off for support. Lt (jg) Kozoh Miyazawa was missing in action. Two other planes were received battle damage. As a result of this air-combat, number of available float fighters for service was reduced to only 1 with 2 more requiring repair.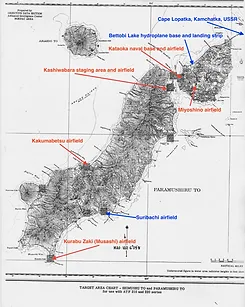 Suribachi  
(Paramushiru #2 Naval Air Base)                
Suribachi Bay on the Southeast coast of Paramushiru also boasted one of the best harbors on the island with four large boat piers 100 to 400 feet in length, two wharves, a massive salmon cannery, numerous warehouses and fish drying stations and a meteorological observatory that supported a large fishing fleet. Suribachi Bay area contained approximately 340 buildings, of which 85 were barracks and 190 were warehouses and cannery buildings.  The largest concentration of canneries in the northern and central Kuriles were located in the Suribachi Bay area. The 276-foot Suribachi volcanic cone dominated the area. The airfield consisted of one hard surfaced runway 4,000 feet by 225 to 265 feet wide and a graded cross landing strip supported by 2,000 yards of paved taxiway. A larger 150 by 170-foot hangar was located on the north end of the main runway and twenty-three blast shelters were located along its side. No evidence of aircraft were noted in late 1944 although the airfield could accommodate a maximum capacity of 30 fighters and 20 twin-engine bombers. The area was well defended with two three-inch coastal defense guns, two dual purpose guns, ten anti-aircraft guns, eleven automatic anti-aircraft guns, seven machine gun positions and forty-one covered gun positions of various sizes.  An extensive anti-tank trenching system was noted. Two search lights were observed. Two radar and two radio stations were located in the area. A road system connected Suribachi with the other parts of the island. Otomae Bay on the Southeast coast contained two 140 millimeter coastal defense guns emplaced in camouflaged positions southwest of the fisheries there was well a covered machine gun positions and 1,450 yards of anti-tank trenches.  (Study, Advanced Intelligence Center, North Pacific Area, The Kurile Islands, Vol. I, pp. 35-40.)
​
Suribachi Airfield Area, according to photos of 18 September 1944:
2 strip airfield (one not surfaced)
1 hangar
31 blast shelters
14 heavy AA positions
2 AA-CD positions
2 DP positions
8 automatic weapons
4 machine guns
2 searchlights
2 radio stations
300 buildings (3 large canneries)
6 piers
2 wharves
Float fighters on board of Kimikawa-maru near Paramushir island in the end of 1942.
​
30 As of this date, The main strength of the Yamaguchi Battalion went to the area between Kiska Harbor and Kiska Volcano —3 companies were in the mid area, with platoons from these covering the east and west sides of the area of lakes just south of the volcano. The Hozumi Battalion expanded somewhat to the southwest where one company and two platoons were sent to the extreme southwest end of the island. One company of the Yamaguchi  Battalion took over the pass west of KIiska Harbor. Some anti-aircraft went to North Head and the remainder to Gertrude Cove. Two companies of engineers moved up to build the airstrip just north of Kiska Harbor. With this deployment, Colonel Yamaguchi  was responsible for the defense of North Kiska Island; Colonel Hozumi, for the South. One hundred men from each battalion were assigned as an airstrip guard. The Navy was responsible for the defense of the harbor and had their artillery set up in that area and on Little Kiska. Navy construction personnel were also working on the airstrip. The Army had no radar but received good information from the Navy radar installation in the hills west of the Navy main camp.
The Army air personnel were limited to four: Colonel Fujii, a senior technician, and two junior technicians.
The airstrip on Attu was to be an Army strip. Because the strip in Holtz Bay was narrow, it was intended to base there up to 30 fighter aircraft Type Ki-43 "Hayabusa". A second larger field, with better approaches, was planned for Massacre Bay. A field was also planned for Shemya Island in the Semichi Group, but there was a shortage of men, materials and water transport. The lack of a harbor at Shemya was considered a very great disadvantage, but it was planned to discharge cargo over the beaches at the east and west ends of the island. An airstrip on Amchitka was also planned. An airstrip on a site at the southwest end of Kiska was considered, but no beach suitable for unloading cargo was found and building a road from Gertrude Cove presented extreme difficulties.

October 1942
The pilots of the Eleventh Air Force and the weather continued to take a heavy toll. In just two air battles over Kiska, 2 and 3 October 1942, U.S. pilots claimed eleven Japanese planes shot down.
As a result of this air-combat, available float fighters for service was reduced to only 1 with 2 which needed any repair.
On October 1, PO1c Ookawa, PO1c Sasaki, PO3c Hitoshi Naito and Flight Seaman, 2nd Class Asaharu Utazu intercepted 7 B-24s damaging one (black smoke).
On the following day, they had another combat encounter.
In the early morning of October 3, PO2c Sasaki and Flight Seaman, 2nd Class Utazu intercepted 11 B-24s and 8 P-38s to achieve a kill of one P-38. 1 more kill was reported as uncertain. CPO Nakamachi and PO3c Sato who took off later damaged (black smoke) one of two? B-24s .
In the next morning, received radar alarm, 3 float fighters dispatched to intercept 5 B-24s, 5 P-38s and 5 P-39s.
PO3c achieved 1 kill of P-38 though it was of uncertain. PO3c Hiroshi Sato did not return. Besides, the plane of Flight Seaman, 2nd Class Utazu was wrecked by bullet-hit. As a result, there were no float fighters available again.
By 4 October no float fighters remained serviceable.
By the end of October, only nine of the 72 lost American planes were shot down. Weather is the primary enemy for both combatants in the Aleutians.
27 In order to strengthen Japanese hold on the western Aleutians, the North Sea Garrison was formed, and the North Sea Detachment was placed under its control.
November 1942
1 Navy Patrol Air Wing Four is redesignated Fleet Air Wing Four.
Toko Ku was redesignated the 851st Kokutai.
The 5th Ku was redesignated the 452nd Kokutai, and its strength was increased to sixteen "Rufes". They were subordinated to the 51st Base Air Unit under the command of Commander Nobukichi Takahashi. They were employed in flying reconnaissance and anti- submarine patrols, but during the American bombing raids they also have been used in interceptor role. At this period, monthly production number of Type 2 float fighter was 12. Its consumption was divided between the 452nd Ku in the Aleutians and the Solomon Islands.
The responsibility for the defence of the Kurils was transferred from the General Defense Army commander to the Northern District Army led by Lieutenant General Kiichiro Higuchi. Therefore, the Northern District Army became responsible for both the defense of the Kuriles and carrying out the western Aleutian Campaign.
6 The auxiliary seaplane tender Kimikawa Maru brought another six Type 2 Float Fighters to Attu to fly on to Kiska. This second batch suffered heavy losses first from a storm immediately after their arrival (on November 9, Japan time). On the following day, (still November 9 in the US)  the damaged planes along with Type 0 Recon Seaplanes were strafed by P-38's. Often published US aerial recon photo shows the wrecked Type 2's at Holtz Bay, and I guess there's a fair chance the wreck in Darryl's photo is one of them, dragged ashore and stripped of engine and other useful parts to return other float fighters to operation.
9 11AF attacked six float fighters and one float biplane in West Arm Holz Bay and destroyed all seven.
 
December 1942
1 Japanese Naval Air units are reorganized and redesignated. In the 24th Air Flotilla, Chitose Air Group is divided, the A6M2 fighter unit becoming 201 Ku, and bomber unit becoming 703 Ku which was removed from the 24th Flotilla. The 1st Air Group is redesignated 752 Ku, loses its fighter unit, and rearmed with G4M bombers by the end of the month. There is also 552 Ku with Aichi D3A carrier-borne dive bombers.
21 The first PV-1 aircraft was delivered to FAW6 Hedron, NAS Seattle
25 Kimikawa Maru delivered seven more A6M2Ns float fighters to 452nd Ku which were flown to Kiska from Attu on the 26th of December.
On December 25, 7 float fighters were sent to Attu again by Kimikawa-maru. At the same time, 3 pilots – Senior, WO Masaro Nagase and his 2 men were sent to fulfill the 6 pilots shortage (PO2c Suzuki, Flight Seaman, 2nd Class Narita and Flight Seaman, 2nd Class Minasawa were returned to the homeland). They advanced to Kiska next day.
29 Hedron FAW6 moved to NAS Whidbey Island, WA
31 Pilots of 452 Ku claimed one B-25, one PBY, and one P-38 shot down.
In the early morning, 1 B-25, 7 P-38 and 1 PBY came to raid. 2 float fighters on patrol intercepted them. Another PBY was attacked by 5 float fighters and got damage(black smoke) but escaped crash.
Japanese reported that WO Nagase and PO2c Teruyuki Naoi had shot down a B-25, and forced-landed a PBY. CPO Nakamachi, PO1c Sasaki, and PO2c Misao Osa (Cho?) intercepted 9 P-38s and shot down one of them. A ditched PBY was destroyed by attacks of 2 float fighters.
Catalina 25V (Lt. Rodebaugh) was attacked for 30 minutes by four Zero float fighters while on rescue duty with 11 AF near Segula Island off Kiska. Evasive action, returned fire, able to reach cover near Khvostof Island. Multiple bullet holes, no injuries.
By the end of the month, the Japanese 1st Air Division under the 1st Air Army is organized to strengthen the air defense of The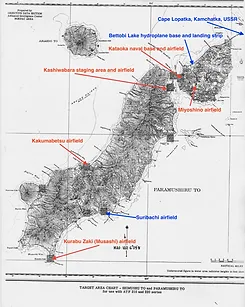 Kakumabetsu 
(Paramushiru # 3 Army Air Base)   
The Imperial Japanese Army Kakumabetsu Airfield, on the Southwest side of Paramushiru, was the only military base located on the West side of Paramushiru Island.  Its 5,200 yard taxiway system resembled a figure eight and it had one single, hard surface 3,800 by 130 foot runway (over 1200m).  The airfield had been constructed during the spring and summer of 1944 and was first sighted in late May 1944 and photographed in June 1944. No evidence of aircraft were noted in late 1944. Twenty-eight revetments were noted on the eastern side of the runway.  No repair facilities were observed. The Kakumabetsu Airfield was defended by a five possibly six gun battery approximately 4,000 yards southeast of the airfield and another four gun battery north of the airfield near Daigo Cape.  Eight automatic anti-aircraft guns were dispersed throughout the area. Six coastal defense gun positions were noted. Anti-tank trenches were located throughout the area. Overall, its defenses appeared less extensive than other parts of the island.  Two radar and one radio sites was noted. Kakumabetsu was the best harbor on the island. The Japanese government had spent ten million yen in 1933 improving it, so it also boasted one of the best harbor facilities on Paramushiru. Four fisheries were located in the area. (Study, Advanced Intelligence Center, North Pacific Area, The Kurile Islands, Vol. I, pp. 51-54.)
The base also had shore facilities for float planes. 
Photos of 18 September 1944:
Single strip airfield
25 blast shelters
11 automatic weapons
8 covered guns
1 radar (twin screen)
2 canneries
1 fishery
1 boat basin
A complement of Ki-44 Tojo aircraft allegedly operated from Kakumabetsu airfield between July and October of 1944.
​
The Ki-44-II was equipped with the 12.7mm Ho-103 guns which the Japanese classified as a "machine cannon". It could fire explosive ammunition. The type of nose fuse in this ammunition often burst prematurely on immediate contact with the external skin of the target aircraft, and could cause damage that appeared similar to that from a 20mm cannon shell. The Ko model had Ho-103 wing armament only, whilst the Hei model had 4 x Ho-103 (cowling and wing). The Otsu model had Ho-103 cowling weapons and provision for the Ho-301 40mm cannon in the wings. That latter weapon had a rather low velocity and short trajectory but the impact was rather spectacular. The Ki-44-III had 20mm Ho-5 wing armament but only one prototype aircraft was ever made. (Nicholas Millman)